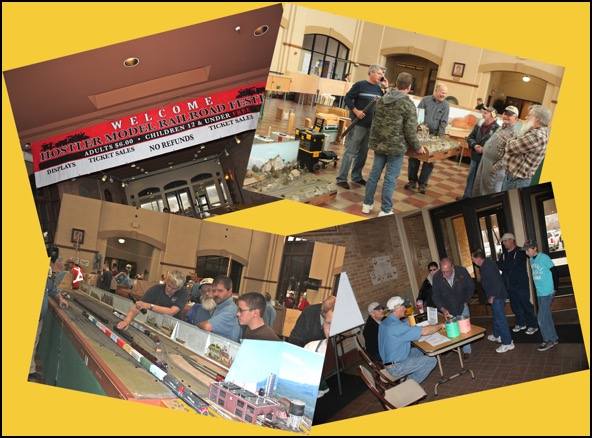 Hostler Schedule for 2017


June 23 or 24 Hostler BOT meeting and BBQ Mike's Time?
July 1 & 2 Spring Creek Show
July 15th Hostler Picnic (confirmed)
August ,4, 5, & 6 Evanston show
September 9th Layout tours
September 20th regular Hostler meeting 7 – 9 pm
September 23rd Hostler Swap meet 8am – 1 pm Grand Lobby
October 14th and 15th Idaho Falls Show
October 18th regular Hostler meeting 7 – 9 pm
November 15th regular Hostler meeting 7 – 9 pm
December 2nd Hostler Christmas Party 5 – 9 pm Old Timers Room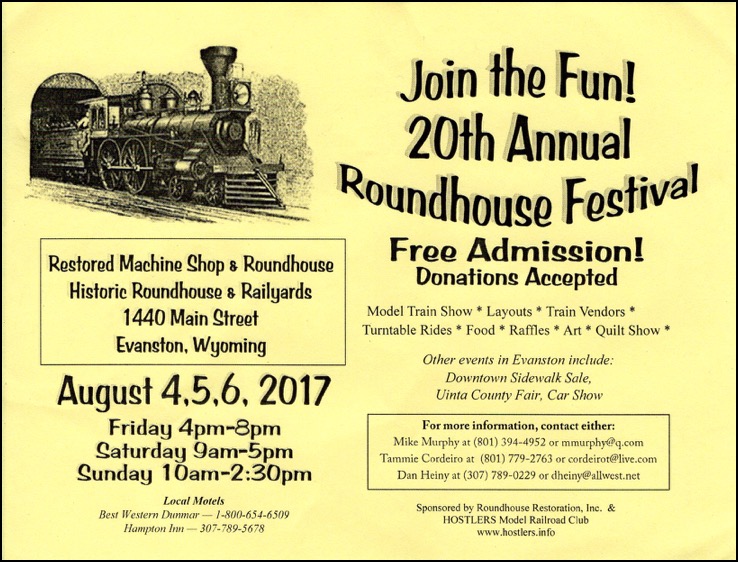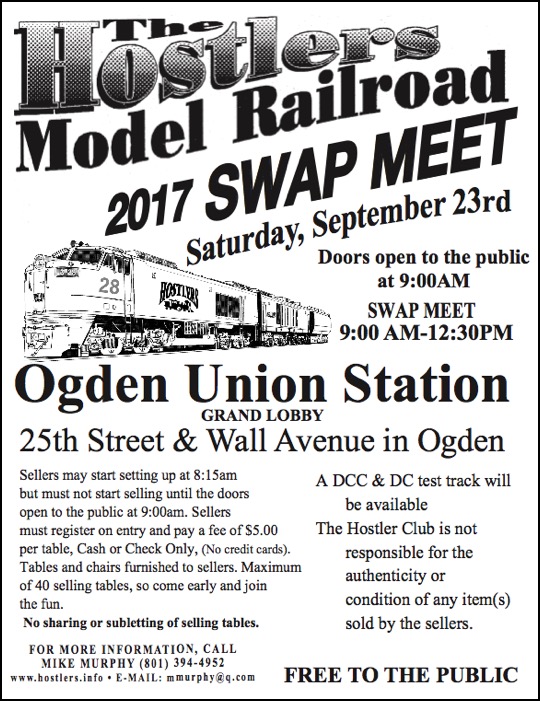 _________________________________________________________
Visit our Facebook page
_________________________________________________________



Hostlers contribute to:




Who Are We?



The Hostler Model Railroad Club was founded in February 1988 in Ogden as an all scale group. By June of '88 the club had grown to fourteen members.

Monthly meetings were held in member's homes. Within a year, an HO module group was formed to promote model railroading at local train shows. The Hostler modules have been shown in Utah, Wyoming, Colorado and Idaho.

While all scales are represented, HO is the primary scale of most members. The club has grown to nearly 180 members in 2004, mostly from the Wasatch Front area of Utah. They generally meet once a month at the Ogden Union Station every third Wednesday. New members are welcome anytime.

Under the long term leadership of president Mike Murphy, the club has gained in reputation and leadership among model railroad clubs in the west. Our annual model train festival the first weekend of March draws upwards of 8,000 people during a 3 day show.

The Hostlers also has a strong public service record through donations of monetary gifts to several local charities, the Ogden Union Station and participation in the annual Ogden Christmas Village at the Ogden Municipal Park.